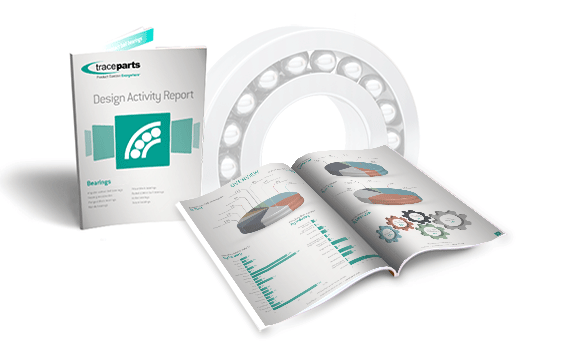 Angular contact ball bearings
Bearing accessories
Flanged block bearings
Needle bearings
Pillow block bearings
Radial contact ball bearings
Roller bearings
Thrust bearings
Find out who's downloaded what per product family, country, industry, job title, etc.
Fill the form to Download the Design Activity Report on bearings
Design engineers know that the fastest way to model a part is to download it
It takes lots of valuable design time to model an existing bearing component.
Why re-modelling a bearing when you can download it?
This is how TraceParts currently helps millions of design professionals to save this very precious time, giving them free access to one of the largest CAD model libraries in the world.
Engineers and design professionals come to TracePartsOnline.net looking for supplier-certified bearings such as balls bearings, roller bearings and many more bearing components to include in their design project.
With instant access to technical data, design engineers evaluate and select the right part for their assembly before downloading the 3D model in the CAD format of their choice.

Your bearings technical data and your CAD models can be turned into the most powerful sales and marketing tool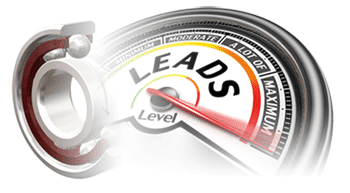 If you are a bearings supplier with components that would appeal to the TraceParts design community of 3 Million CAD users, you should really consider publishing your technical data and your CAD models on the TracePartsOnline.net CAD library and get specified-in right at the design stage.
Everytime one of your CAD model is being downloaded, you receive information of who's downloading what including full contact details, type of industry, size of the company, etc.
What's more? TraceParts had concluded many significant publishing partnerships with numerous CAD vendors such as SOLIDWORKS and Autodesk. This means that when you promote your product lines on the TracePartsOnline.net platform, you also reach a vaster design network of 17 million CAD users!


If you feel you aren't ready yet…
At TraceParts, we understand that publishing the CAD models of your components is a crucial step in your Sales & Marketing strategy.
Whether you do not have all the CAD models of your bearing components in place, wonder if your products would qualify for being published onto the TraceParts' platform or simply want to know how to budget for it, we have created a FAQ page especially for you!

AMES
Manufacturer of sintered metal part
Carter Manufacturing
Manufacturer of high precision bearings for both standard and specialized applications
CHIAVETTE UNIFICATE
Chiavette Unificate SpA manufactures mechanical components, which are necessary for the motion of different systems and machineries.
CPM SPECIAL BEARINGS
CPM designs and manufactures customized roller, ball, needle-roller, tapered roller, crossed roller bearings, slewing rings and precision rings in mid and high series. The dimensional range goes from 10 mm bore to 800 mm external diameter
Franke
Franke
GGB
The global leader in high performance bearing solutions
GRW
Hochpräzise Kugellager
ICI COMPOSANTS
Les Composants Industriels
INA/FAG
The Schaeffler Group develops and manufactures high-precision products for everything that moves
ITAFRAN
Intermédiaires du commerce en machines, équipements industriels, navires et avions
Kaydon Bearings
Bearings
LIBE
LI-BE Gruppi Volventi has been designing, manufacturing and selling cylindrical rollers and ball bearings of special design and execution since 1984.
MS Motorservice International GmbH
plain bearing
NADELLA
Specialized in mechanical motion technology
Nilos - Ring, Ziller GmbH & Co. KG
Metallic roller bearing seals
NKE
Standard and special bearings for all industrial applications
NSK
NSK Europe - One of the world's leading manufacturers of rolling bearings, linear technology, automotive components & steering systems, we offer standard and customised products to key industrial sectors.
RBC Bearings
Manufacturer of bearings
SKF
Manufacturer of bearings
SNR
Bearings manufacturer and linear technology
WINKEL
Schwerlast Komponenten
ZWZ
ZWZ Group, the backbone of China's bearing industry, has always been leading the industry trends.