THIELE product range available from THIELE websites THIELE.de and CADENAS.com can now be downloaded as 3D CAD models from TracePartsOnline.net
Saint-Romain, France – 27 October 2016 – TraceParts, one of the world's leading providers of 3D digital content for engineering and THIELE, an innovative manufacturer with a long tradition in the production of round steel chains and forged parts for the Conveying and Lifting technology sectors have partnered to further strengthen THIELE support to design engineers worldwide.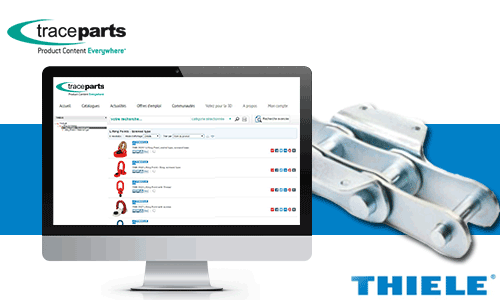 From its headquarters in Iserlohn, Germany, THIELE supplies high quality products to customers on the domestic German market and throughout the world. Its global network enables them to provide top quality, exclusive service and technical solutions for conveying and lifting applications to customers in 72 countries through its website cadenas.com.
Because THIELE's products are being designed and used all over the world, partnering with TraceParts was an obvious choice for strengthening its local and global presence as well as supporting design engineers using THIELE products for some heavy duty projects involving mining, lifting or conveying bulk materials.
All of the THIELE standard products are now published on the TraceParts CAD platform together with 3D CAD models and technical specification, making them available to a worldwide community of 16 Million designers.
About TraceParts
TraceParts is one of the world's premier suppliers of 3D digital content for engineering applications. Part of the Trace Group founded in 1989, the company delivers powerful web solutions, such as CAD parts libraries, e-catalogs and product configurators. TraceParts also provides digital marketing services to help parts manufacturers, software vendors and IT hardware suppliers promote their products and services, while generating top-tier B2B prospects.
The TracePartsOnline.net portal is available free of charge to millions of CAD users worldwide, with access to hundreds of vendors' catalogs and over 100 million CAD models and data sheets geared towards design, procurement, manufacturing and maintenance processes.