The lucky winner received the revolutionary Myo™ armband as a gift
Saint-Romain, France, April 15, 2015 – In November 2014, the TracePartsOnline.net engineering platform achieved the amazing figure of two million registered users. To celebrate this milestone, TraceParts decided to offer its two millionth registered user the revolutionary Myo™ gesture control armband from Thalmic Labs.
The way the Myo™ armband works is simple. It is worn around the forearm and connects to compatible electronic objects via Bluetooth. After having memorized a series of control gestures, Myo™ picks up electrical impulses from muscles in the forearm and transforms theme into "orders" for the object used, such as a computer or a telephone. This technology allows users to interact with connected devices using simple, intuitive movements.
The lucky winner of this Myo™ armband was David Henderson, a mechanical engineer at NEC Energy Solutions. He became our two millionth registered user when searching through the TraceParts online library for electrical components to integrate in the renewable energy production equipment that his company supplies and deploys around the world. Bob Noftle, the President of TraceParts Inc, went down to NEC Energy Solutions in Westborough (Massachusetts, USA) in order to meet David Henderson and present him with his new Myo™ gesture control armband.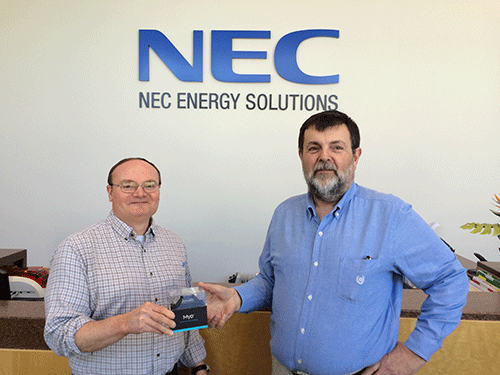 By becoming the two millionth registered user on the platform, David Henderson can now optimize his design productivity by having access to millions of CAD models.
Today, more than 2.1 million CAD users around the world are registered on TracePartsOnline.net and can download free 3D CAD models and other technical data from hundreds of suppliers catalogs.
About NEC Energy Solutions
As an industry leader in energy storage system integration focusing on high performance, efficient, safe and reliable battery systems, NEC Energy Solutions utilizes a state-of-the-art development center and ISO 9001-2008 certified facilities to design and manufacture advanced battery systems ranging from small industrial batteries to massive grid-scale energy storage systems. See more at: www.neces.com
About TraceParts
TraceParts is a world-leading digital engineering 3D content company, offering progressive business solutions through powerful web based products and services. TraceParts brings targeted and cost-effective market penetration to parts vendors, in all sectors of industry.
The TracePartsOnline.net CAD portal is freely available to millions of CAD users worldwide, with hundreds of supplier catalogs and 100 million CAD models and product datasheets suitable for the Design, Purchasing, Manufacturing and Maintenance processes. For more information about TraceParts, please visit www.traceparts.com