TraceParts organized 6th eCatalog Conference with its partners
St. Wendel, Amberg (Germany), April 30, 2014 – Component manufacturers offering a large variety of parts and technical products requiring explanation face the major challenge in the global market of "getting found" and of providing detailed information about their products as quickly as possible to designers and architects. What is required in this case are automated solutions. The partners involved in organizing the eCatalog Conference develop such solutions, which they have just presented at the sixth eCatalog Conference, held at the Golf-Hotel in St. Wendel.
"We want to promote sales by providing efficient support for customer processes. The aim is to automate the processes. A rapid response time in particular is the best form of marketing,"
said the organizing partners, explaining the intention behind the conference.
What is special about this approach is how it combines product presentation from a marketing perspective with the support from technically reviewed CAD files from the product configuration.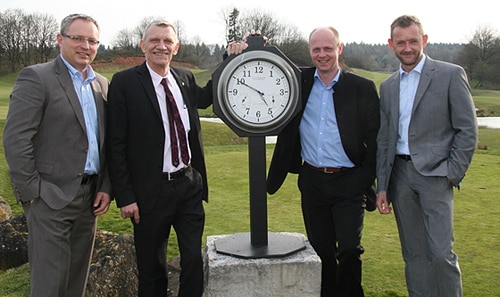 Managing directors from left to right: Christian Baumgärtner (TraceParts), Axel Biewer (Plan Software), Herby Tessadri (crossbase) and Achim Angel (KiM).
Photo: Gog Concept
TraceParts and its partners KiM, Plan Software and crossbase feature among Europe's leading suppliers of electronic product catalogs and sales-support software. Each partner has its own specialist area. KiM focuses mainly on design data and CAD models, and TraceParts from Amberg provides a portal solution for designers for generating sales leads and e-marketing solutions, aimed at bringing providers and customers together. crossbase, based in Böblingen, develops PIM databases for marketing and electronic catalogs, while Plan Software, based in Saarbrücken, specializes in configurators.
Eighty senior managers from 38 European companies came to St. Wendel to find out about new electronic marketing and design solutions. This included the presence of global companies such as Siemens, Phoenix Contact, Hilti, ZF Friedrichshafen, Schüco, warema and item. The moderator Dr. Matthias Müller was not surprised by the excellent feedback from those attending.
"Our talks are given by practitioners for practitioners. This allows our guests to experience live what they can do with the software. Not to mention that the partners network facilitates the development of efficient, harmonized solutions."
Speakers from fischerwerke GmbH, Schöck Bauteile GmbH, ZIEHL-ABEGG SE and PHOENIX CONTACT GmbH highlighted in their presentations how the technologies operate in practice.
The partners also took the opportunity to present their latest products and services in an accompanying technical exhibition. As part of this, TraceParts presented for the first time in public its new TraceParts Enterprise software, designed to reduce the costs of managing purchased parts directly during the design phase.
Christian Baumgärtner, Managing Director of TraceParts GmbH, was delighted after the conference:
"Once again, 97% of those attending the conference gave it a very good rating. I would also like to express my sincere thanks to our customers who always describe in detail during their presentations the reasons why they opted to cooperate with us, as well as the improvement/savings they achieved in a short time with our solutions. Professionals attending the conference also frequently recognize from this the same or similar problems that they have still not resolved in their own company."
Further link
eCatalog Conference Website (in German)
Impressions of eCatalog Conference on video
About TraceParts
TraceParts is an online engineering media company offering progressive business solutions through powerful web based products and services. TraceParts helps customers improve marketing efficiencies by increasing the value of their existing digital product data. The TracePartsOnline.net CAD portal is freely available to millions of CAD users worldwide. For more information about TraceParts, please visit www.traceparts.com