We are pleased to announce the availability of the Universal 3D (U3D) file format on TracePartsOnline.net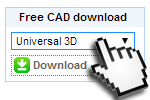 This format was defined by a special consortium called 3D Industry Forum. It has been standardized by Ecma International as ECMA-363.
The U3D format is a universal standard to facilitate data exchange.
Many applications support this file format as Adobe Acrobat, Bentley Systems MicroStation, Graphisoft ArchiCAD, Mesh Lab, Nmetschek Allplan, Pro Engineer….
Find now more Millions of part numbers, from hundreds of catalogs, already available in this U3D file format on TracePartsOnline.net.