The 5th JTE (Electronic Technology Day) took place, showcasing innovative electronic solutions, which provided TraceParts with the opportunity to present its CAD library for engineers and design firms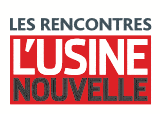 St Romain, France – April 29, 2013 – TraceParts, one of the world's leading publishers of 3D marketing solutions, attended the JTE (Electronic Technology Day) for the third year, which was organized by L'Usine Nouvelle. Held now for the fifth time, the event put the spotlight on innovative electronic solutions for reducing energy bills.
The aim of this day-long event was to enable R&D managers, design and development engineers, as well as general, sales and marketing managers to have access to the latest technological innovations in the electronics sector via an exhibition of products, conferences and technology workshops run by numerous speakers.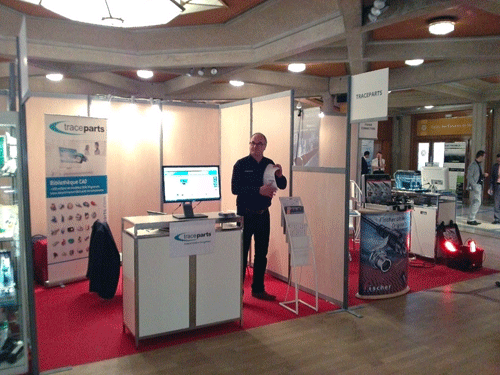 TraceParts was delighted to be involved for the third year as a partner in this event, which puts designers, electronic equipment manufacturers and component and system manufacturers in touch with each other. "It was a pleasure for us to attend this JTE event again. This exhibition enables us not only to maintain excellent relations with our manufacturing customers attending the event, but also to approach new component manufacturers. Engineers and design firms in the automotive, aerospace and energy sectors are very interested in distributing manufacturer catalogs via our 3D library www.tracepartsonline.net, making them more productive and reliable. Not to mention that this portal provides a genuine marketing tool for these manufacturers, with more than 600,000 visitors a month and more than 6 million pages viewed," explains Antoine Pigeon, Sales Manager at TraceParts.
About L'Usine Nouvelle
Since 1891, L'Usine Nouvelle has been involved in keeping the industrial sector up to date with a weekly magazine enjoying a circulation of roughly 60,000. It has formed the basis for developing numerous services aimed at providing information and establishing contacts. It supports the operators in the industrial sector, helping them make sense of the current situation so that they can improve their performance and adapt their practices, business processes and products to the ever-changing market. As a media touchstone for all managers and decision-makers in French industry, L'Usine Nouvelle has developed leading-edge expertise and stands out for its innovative, proactive approach.
About TraceParts
TraceParts is a leading digital engineering content company, offering progressive business solutions through powerful web based products and services. TraceParts helps customers improve marketing efficiencies by increasing the value of their existing digital product data. The TracePartsOnline.net CAD portal is freely available to millions of CAD users worldwide. For more information about TraceParts, please visit www.traceparts.com