Target a Specific Community of Designers and Engineers With The TraceParts Monthly Newsletter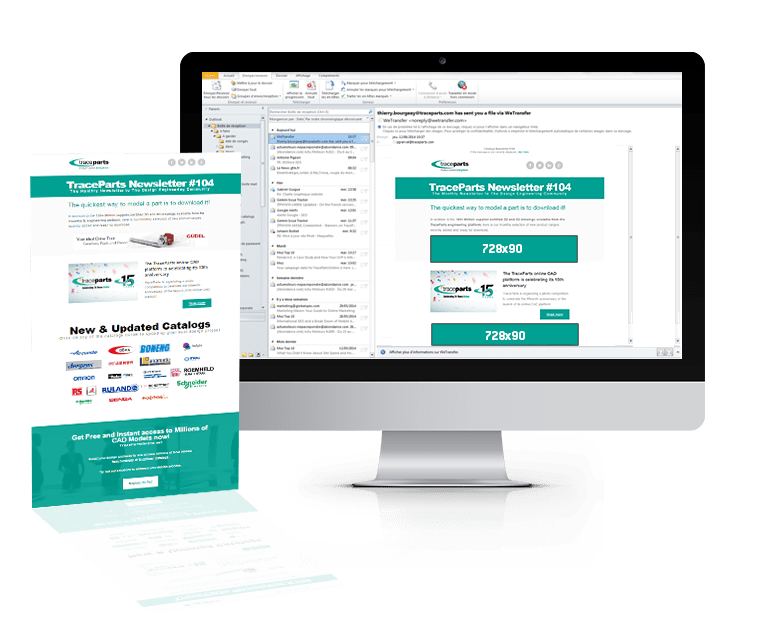 The design community receives monthly updates about the latest CAD models available for download from the TraceParts platform. You can place your banner add on this newsletter and reach out over 476,000 engaged subscribers worldwide.
The TraceParts newsletter is published every month on www.traceparts.com and sent by email to our CAD users database. You can find all Newsletters sent by TraceParts at: traceparts.com/news-and-events/newsletters/latest-newsletters/
This opportunity is subject to availability as only two leaderboards can be promoted per Newsletter.


Size
LeaderBoard (Horizontal Banner):
728×90 pixels
72 dpi, 60 kb max. GIF, JPEG

Rates
2,900€/ US$3,3800/ GB£2,070 per banner
and per eNewsletter


Planning of next eNewsletters
– n°99 : Jan. 11, 2016
– n°100 : Feb. 15, 2016
– n°101 : Mar. 14, 2016
– n°102 : Apr. 11, 2016
– n°103 : May. 9, 2016
– n°104 : Jun. 6, 2016
– n°105 : Jul. 4, 2016
– n°106 : Sep. 12, 2016
– n°107 : Oct. 10, 2016
– n°108 : Nov. 14, 2016