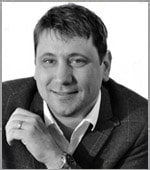 What's your name? What's your position within the company?
My Name is Thierry Bourgeay and I am the Global Marketing Manager at TraceParts.

How long have you been working for TraceParts for?
I had the chance to work with TraceParts in the past, seeing the Company from a Customer point of view. I jumped at the opportunity to join the Team back in November 2013!

What is your job about?
My role is to ensure that the high level of energy that exists within the group is nurtured, channeled and focused on key areas that will contribute to the success of our existing and future customers. As TraceParts is a global company, my mission is also to make sure that our marketing strategy is flexible enough to adapt to local requirements and to different geographical markets. I strongly believe that this can only happen when sales and marketing are working closely together.

What do you want to achieve for TraceParts in the next years?
I often meet people working in manufacturing companies who really inspire me, especially with fresh ideas they have about new products, services, processes and so on. The reason why I believe that TraceParts can really make a difference to our industry is because these people often have the problem of keeping existing customers, finding new ones to grow their business in order to invest in the future. In many cases the focus on innovation comes second.
I firmly believe that this is where TraceParts can make a huge contribution towards innovation, by giving these people the possibility of growing their business' and empowering their employees to implement new ideas. After all, TraceParts is all about helping designers to do what they do best, i.e. design, and help manufacturing companies to find great business opportunities.

What do you do after work, during your free time?
When I am not spending time with my wife and my son, you will probably find me in the water. Indeed, I love all water sports and since I am in the UK, I really enjoy surfing in the area, spending more time in the water than on the board at the moment!