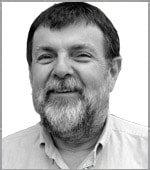 What's your name? What's your position within the company?
Hi, my name is Bob Noftle and I am the President and Chief Evangelist of TraceParts, Inc in the U.S.A.

How long have you been working for TraceParts?
I began a very friendly relationship with TraceParts in 2003 when I was still working at SOLIDWORKS. I became part of the TraceParts family in 2007 after I retired from SOLIDWORKS.

Please tell us what your job is about
Every day, I work with our sales team and engineers to sell, create, and support our online 3D catalog customers. I particularly enjoy working with our customers to help them realize the long-term benefits of having a 3D catalog. Also, we are working on a new community web site specifically for our 1.5 million global TracePartsOnline.net users to communicate each other. Watch your email for an announcement coming soon!

Tell us what you want to achieve for TraceParts in the next years
I have two goals. The first is to increase the number of suppliers that have 3D catalogs. The second, is to increase the level of communications between our users and supplier customers through our community efforts.

What do you do after work, during your free time?
What I do in my spare time depends upon the season. In the winter, I try to go snow shoeing every weekend and spend time in my shop working on my woodworking projects. In the spring, summer, and fall, I spend time in my vegetable garden and hiking in the woods and mountains with my wife and dogs. And, I do find time each weekend, in every season, to work on my favorite TraceParts projects.

How can the readers contact you and why is this important to you?
Readers can email me at anytime. And very shortly they can message and blog with me on our new community sites.